Writing your I CAN list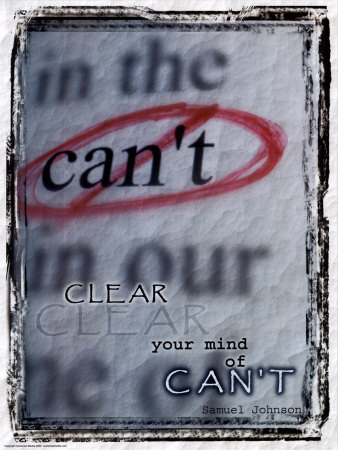 As far as i'm concerned the word CAN'T does not exist. I can't lose weight, I can't run a marathon, I can't eat healthy. Well I know that those statements are not true, I know some amazing people who have accomplished some amazing things all by being positive and believing that they CAN do it. Even though I am at a stall on my weight loss right now that doesn't mean that I will give up. I know I can do it, I know I will get there. So here's a little exercise...try writing an I CAN list. This will allow you to reflect on all the amazing things you can do. Here's just a few of mine:
I CAN run for 10 minutes without stopping
I CAN work out 6 days a week and still feel like I have energy left over
I CAN get up at 5:30AM and not die
I CAN do push-ups from my toes
I CAN do 2 tricep push-ups on the tire
I CAN eat delicious, healthy food and avoid the donuts at work
I CAN shop in a regular clothing store
I CAN wear boots
I CAN wear a sexy dress :)
Now try making your own list, what can you do?
"When life gives you 100 reason to CRY, show life that you have 1000 reason to SMILE. Face your past without regret. Handle your present with confidence. Prepare for the future without fear. Keep the faith and drop the fear."-Emmanuel Tiwo